Beautiful, sensual art of the physical form. This original, romantic and intimate art can be a perfect bedroom wall candy.
As well as looking beautiful, many of our art pieces can also serve as a special tool to help you reach your inner spiritual self. As it is created with pure intention to help you reach spiritual understandings of your higher mind.
All art is produced by Hanni B. who is an innovative artist that is equally adept at handling intimate portraits as well as large scale murals. Her work is original and easily identifiable, not only for the vibrant color combinations, but also for the intriguing, thought-provoking and sometimes provocative subject matters.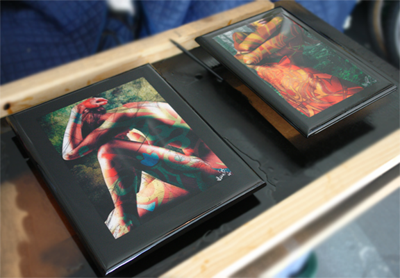 Our style is introduced through blends of nearly photo-realistic paintings and fine art nude photography into images that transcend the boundaries of the separate disciplines; An image one step closer to reality than most artist could render, yet beyond the realistic capabilities of any regular photographer.
I used variety of mixed media such as oils, acrylics, watercolors, resin as well as my computer skills to illustrate, create and perfect any images, innermost thoughts, and ideas.
Oil and Acrylic Paintings
High Quality Art Prints
Fine Art Nudes
Boxed Canvas Art
Wall Murals
Children's Wall Murals
Pop Art
Character Painting
Sacred Geometry Art
Check out the graphic design examples in the portfolio section.