START CREATING YOUR OWN WEBSITE TODAY!
You want to be an entrepreneur and you have a passion that you'd love to share with the world.
Perhaps you love doing hair. You love browsing hair style and product websites, checking out the awesome looking photos and trying the styles. You have awesome ideas that you know others would love.
Or you love to travel and are wondering what to do with all these amazing photos and stories (your family may be tired of hearing them by now).  Or you are a photography enthusiast and you wish you could sell your skills to a wide audience.  Or you want to change the world to be a better place and are secretly hoping (like I do, I admit) that your website or blog will make a difference.
Whatever it is, don't wait. Today is your day to start and create your own simple website!
You may be wondering.. Why today? What's the rush? You still want to think about some things…
But, what is it that you truly need to think about? What is really holding you back? Because if you are waiting for the perfect moment when you have everything figured out – then it will never happen.
Trust me, I started several websites and none of them were perfect. But I am sure glad I went ahead anyway.
So, I'm asking you to put things on hold for the next 20 minutes and follow the three steps below and you'll be up and running with a simple website today.  So… Let's begin!
How to Create a Simple Website in 30 Minutes or Less:
1. Choose Hosting & Your Domain Name
2. Install WordPress
3. Add Your Content
1) Choose Hosting and Your Domain Name
This part is lots of fun! What is your business name and what do you want your domain name to be? My company name is Sublime360.
Your domain name could simply be your name, it could reflect what your business is all about, or it could be a cool, generic name that would give you most freedom.
Be careful to choose your domain wisely, because while changing the domain name is possible, it can be quite a pain.
Brainstorm as many different ideas as possible and head to 1and1. You may check if any of your domain ideas are available by going to their website and choosing the Domains option from the top menu. Or you can do it all at once when signing up for hosting.
Hosting is like renting space on the web to display your website. A web host (or hosting provider – such as 1and1 or GoDaddy), is a company that makes your website available for the world to see. They have the equipment and technical skills to make sure your website is available to the world, 24 hours a day, 7 days a week.
1and1 has great rates for domains and hosting, plus they provide great support. Go to their site and click on View Web Hosting Plans:
Disclaimer: Please note that the link above is affiliate link and I will earn a commission if you purchase through that link. I have used all of the products listed and recommend them because I love the products and services that they provide, not because of the commissions that I may earn from you using these products.
On the Hosting page, choose the Basic Plan, unless you want to set up more than one website. (You can always upgrade your account in the future once you're ready to expand your online empire). Once you purchase your domain and hosting, you'll be ready to install your WordPress website!
Once you've completed registration with 1and1 you'll need to go through the process of installing WordPress to your new domain. WordPress is an easy to use website software. It's the software that I use for most of my own and client's websites. The best part is that it's SUPER easy to use and it's also super easy to install. Here's how!
Login to 1and1 Control Panel and scroll down to the Hosting section. And Click on the "WordPress" link to start your process.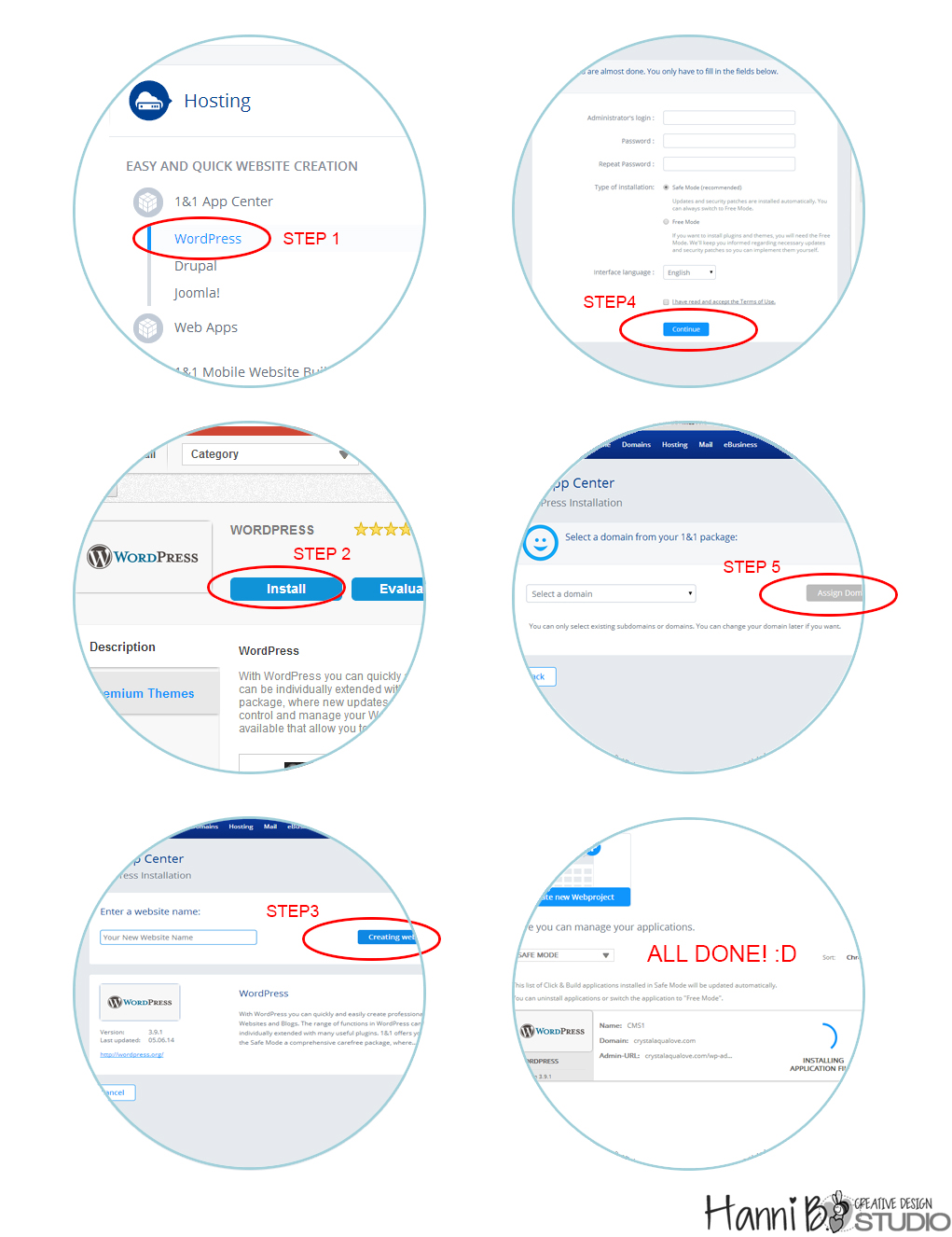 Congratulations! You have now completed your WordPress website installation.
Now you should be able to type your Login URL into your web browser.  http://yourdomain/wp-admin
You'll see a login screen where you can enter your Username and Password you selected when installing WordPress.  Now you are ready to add some content or install a new theme to make your site look just the way you want, so continue to the next step!